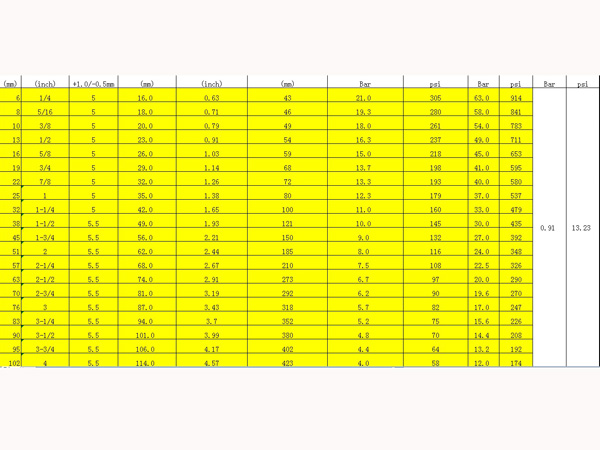 Product structure:
Weaving: four layers of polyester fabric
Stainless steel wire, steel wire: the double 304 distance of 12 mm
Product features:
- working temperature range '- 60 DHS C/C + 180 DHS (76 + 356 DHS DHS F/F) in a short period of time can reach 220 DHS C (392 DHS F)
- has excellent flexibility, wall smooth, clean, easy to clean, non-stick water with clean after cleaning is not attached to any residue, high temperature and high pressure steam disinfection and sterilization can be used.
, odorless, tasteless, completely non-toxic, does not contain any plasticizer and additives. Completely conforms to the food and biological medical grade USP requirements.
- the product after high temperature 180 DHS C * 4 hours after high temperature vulcanization, won't produce any decomposition, bearing pressure ability strong, specific reference data tables.
- the tube is usually translucent, inside and outside can see the fluid through the trend. We can also be customized according to customer required color.
- by CIP and SIP or ray sterilization or high pressure sterilization.
Silicone hose, platinum 21 CFR 177.2600 by FDA (food and drug administration) food grade certification.
Silicone hose, platinum by FDA/Germany BFRS part XV standard certification and LFBG and BGVV standard certification.
Silicone hose, platinum level through the U.S. medical USP Class VI standard certification.
- platinum silicone tube in accordance with the eu directive 2008/95 / ECC restrictions on the use of certain hazardous substances (RoHS).
- platinum silicone tube in accordance with the eu REACH chemicals regulation system standard.
Product application:
Widely used in transmission of high and low temperature food, cosmetic, chemical and pharmaceutical industries and liquid or semi-liquid fluid field of biological engineering.
(such as smoke smoked category dairy products; food machinery equipment with a connecting pipe; alcohol use pipe; oil equipment connecting pipe smoking smoking, medical equipment connection pipe, tube, etc.)